Tael BarsBar Weight:
0.5,1,2,5,10 tael(s)(1tael=37.5grams)
Popular Weight:
5 tael(s)
Purity:
990, 999.9
Country or Area:
China, Hongkong, Taiwan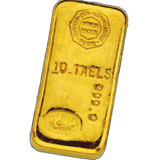 The tael is is an ancient Chinese unit of weight. Gold tael bars are widely traded in Chinese-speaking countries, mainly Hong Kong and Taiwan.
Tael bars are known to have been made in denominations of 1/2, 1, 2, 5, and 10 taels, one tael is equivalent to 1.2 oz or 37.4 g.
Cast tael bars are manufactured in 3 shapes: "biscuits","doughnuts" and "boats".