Gemstone Chart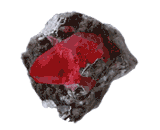 Natural Rhodochrosite
Rhodochrosite is a manganese carbonate mineral with chemical composition MnCO3. The pink color of rhodochrosite is caused by the element manganese and it is formed when manganese is dissolved by ground water and combines with a carbonate material and then drips off the ceiling of caves and crevices deep underground.Rhodochrosite often forms pink and white bands. It is often carved into figurines or boxes while the tubular stalactite formations are often sliced for use in jewelry. Fine gem quality crystals are sometimes cut into gemstones for use in high end jewelry, but the more common grade is used extensively in silver and gold jewelry.
Color: Rose red, raspberry red, pink, grey, fawn, brown
Categories: semi-precious stone
Chemical Composition: MnCO3
Crystal Group: Trigonal
Refractive Index: 1.600 ¨C 1.820
Hardness: 4
Density: 3.45 ¨C 3.70
Occurrence: Argentina; Colorado, U.S.A.; Romania; Hungary; India; South Africa; Saxony, Chile; Peru; Mexico.