Gemstone Chart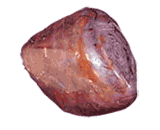 Natural Star Sapphire
A star sapphire is a lovely gem that exhibits a six pointed star because of the intersection of six thin intersecting inclusions. When the gem is lit from above, the inclusions become quite visible and the star shape appears.A powdery grey-blue star sapphire is the centerpiece of a ring from the Art Deco period.
Color: Blue, green blue, violet, blue, black, brown, pink.
Categories: semi-precious stone
Chemical Composition: AL2O3
Crystal Group: Hexagonal
Refractive Index: 1.759-1.778
Hardness: 9
Density: 4
Occurrence: Sri Lanka, Burma, India, East Africa, Ankarana-Madagascar, Thailand.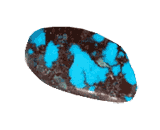 Natural Turquoise
Turquoise is an opaque, blue-to-green mineral that is a hydrous phosphate of copper and aluminium.The gem turquoise owes it's beauty almost entirely to its superb color. It has been used for ornamentation since 3000BC and possibly before.
Color: Blue, Greenish Blue
Categories: semi-precious stone
Chemical Composition: CuAl6(PO4)4(OH)85H2O
Crystal Group: Triclinic
Refractive Index: 1.62
Hardness: 5.5-6
Density: 2.60- 2.90
Occurrence: Iran, USA, India, Tibet, China, Egypt, Chile, Russia, Australia