Melted Scrap BarsBar Weight:
100 mesghal(s)(1mesghal=4.6083grams)
Country or Area:
Iran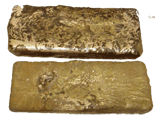 As there are no large refiners in Iran, small melting units recycle large quantities of old gold jewellery into "melted scrap bars", normally for use by fabricators. These rough gold bars have variable weights and purities.Once assayed and marked by a private assay laboratory, they are widely traded. The bars are normally priced per mesghal (4.6083 g),a traditional Iranian unit of weight. Weights can exceed 100 mesghal.