KilobarsBar Weight:
1000 gram(s)
Purity:
995, 999, 999.9
Country or Area:
Switzerland, Australia, South Africa, India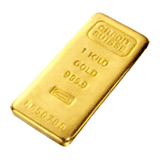 The kilobar (1000 g) is the world's most widely manufactured and traded small gold bar.While almost all kilobars now have a flat "international" shape(Typical lengths range from 110-120 mm, thicknesses around 8-10 mm.), "traditional" kilobars in the shape of a brick(A typical length is 90 mm, thickness around 17 mm.) are still preferred by some investors and fabricators in Europe.
Switzerland is the major supplier of kilobars for the international market,alongside South Africa and Australia. Another important market for kilobars is India.