Honeycomb BarsBar Weight:
25 baht(s)(1baht=15.244grams)
Country or Area:
Thailand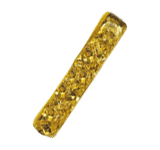 Loo Chang Huat (Thailand) still manufactures "honeycomb" gold bars by blowing on the surface of the molten gold as it cools. The cracked surface enables the buyer to confirm that the bar is made entirely from gold. Although now rarely made, honeycomb bars were widely traded in Thailand until the 1970s. Most weights exceed 25 baht.