KilobarsBar Weight:
1000 gram(s)
Purity:
995, 999, 999.9
Country or Area:
Switzerland, Australia, South Africa, India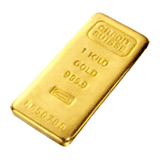 The kilobar (1000 g) is the world's most widely manufactured and traded small gold bar.While almost all kilobars now have a flat "international" shape(Typical lengths range from 110-120 mm, thicknesses around 8-10 mm.), "traditional" kilobars in the shape of a brick(A typical length is 90 mm, thickness around 17 mm.) are still preferred by some investors and fabricators in Europe.
Switzerland is the major supplier of kilobars for the international market,alongside South Africa and Australia. Another important market for kilobars is India.
Tola BarsBar Weight:
1,2,3,4,5,10 tola(s)(1tola=11.6638grams)
Popular Weight:
10 tola(s)
Purity:
999, 999.9
Country or Area:
India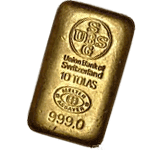 The tola is an Indian unit of weight.It is a popular denomination for gold bullion bars in Bangladesh, India, Nepal, Pakistan and Singapore. The most popular weight is the 10 tola cast bar, equivalent to 3.75 oz or 116.64 g. Tola bars are also manufactured in other weights: 5 tola cast bars, and 1, 2, 3, 4 and 5 tola minted bars ¨C when round in shape, they are normally referred to as "coins" in India and the Middle East.
Coiled BarsBar Weight:
from 0.5 g to more than 100 g gram(s)
Country or Area:
India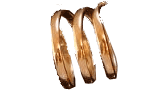 Crude "coiled" gold bars, in the shape of finger rings or bangles, have been popular in India for investment purposes for decades, not least over the period 1963-1990, when it was illegal for Indians to own gold in the form of standard bars, but not illegal to own "jewellery". To facilitate their tradability, the coiled bars normally have precise weights, ranging from 0.5 g to more than 100 g. They are normally cut from cast strips of gold and then coiled.